News and events
Younity: specialists, together, for you.

Younity and three european employment boutique firms have teamed up in an alliance to assist clients and other law firms with Brexit workforce related topics. Contact one expert firm, get access to four. That's the deal.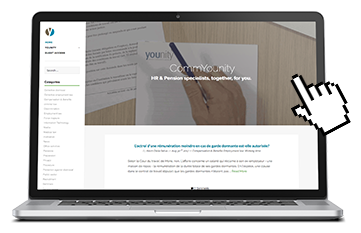 Discover all of our articles on our CommYounity blog
Follow us
Press & Media
Banque J. Van Breda & Co, 9 mai 2018

Interview l'Echo, mai 2017

Trends Tendance, 12 avril 2018

Trends Tendance, 19 mars 2018

Trends Tendance, 30 novembre 2017

Trends Tendance, 05 octobre 2017

Trends Tendance, 16 août 2017

Trends Tendance, 15 juin 2017

Analyse d'Aurore Guérit pour Trends-Tendances.

Pas question de licencier n'importe comment. Ecoutez l'interview de Jean-Philippe Cordier.

Caterpillar: les chances de reconversion.

Sébastien Roger répond aux questions de citoyens en matière de grève.

Jean-Philippe Cordier interviewé sur Matin Première.